Press Release
20th May 2022
New EAMU expands disease control options in Carrots and Celeriac
Modif, which contains cyprodinil and fludioxonil, has now been granted an approval of an Extension of Authorisation for Minor Use (EAMU) registration for use in carrots and celeriac.
Manufactured by off-patent manufacturer Life Scientific, Modif is a reverse-engineered Switch, a WG which can be used for a range of diseases in fruit and vegetable crops as well as ornamental plant production.
"This EAMU approval comes as welcome news as an additional option for vegetable growers for protection against sclerotinia and alternaria leaf blight," says Ruth Stanley, Life Scientific's UK country manager.
"Life Scientific specialises in bringing high quality off-patent crop protection products to market with the goal of providing customers with better options to meet their plant protection needs, and this recent EAMU reflects the success of the approach."
The EAMU covers three applications in carrots at a rate of 0.8kg/ha, and should be applied 7 days before harvest. In celeriac, only two treatments of 1.8kg/ha are recommended, and should be applied 14 days before harvest.
Modif's activity includes controlling disease on peas and beans. Encouraged by the weather at the moment, these crops are experiencing high levels of powdery mildew.
 "Whilst there is no label claim for powdery mildew, as the result of a customer request we included Modif in a replicated field trial conducted by RAA labs in Lincolnshire, to determine the level of control of powdery mildew when used at two dose rates in crops of vining peas," says Mrs Stanley.
In late spring, peas and beans are susceptible to powdery mildew which shows as pale patches on the upper side of the leaf and the underside has grey or dark reddish mycelium.
"One application was made at early flowering using dose rates of 0.25kg/ha and 0.5kg/ha. Assessments were made 7 and 14 days after application to show the percentage control over untreated," she adds.
"The results demonstrated that at T1 + 7 days at 0.25kg/ha there was only 9.5% severity of powdery mildew versus 62.5% on the untreated. At T1 +14 days this was only just higher at 31.3%, whereas untreated showed a powdery mildew severity of 94.5%.
"At the higher rate of 0.5kg/ha at T1+7 days levels of severity of powdery mildew were much reduced at 5.5% and at T1 +14 days at 21.3%, compared to 94.5% in the untreated."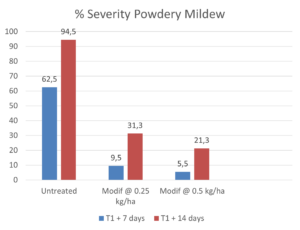 For more information on this EAMU visit the Modif product information page on the Life Scientific website www.lifescientific.com/products/uk/modif
-ends-
413 371 words inc graph
Contacts
Siafu PR, Niamh Tye, Tel: 07704631836, Email: niamh@siafu.biz
Life Scientific, Ruth Stanley, Mobile: 07857 483193, Email: ruth.stanley@lifescientific.com
Who is Life Scientific?
Life Scientific was established by Nicola Mitchell in 1995, and is headquartered at Belfield Office Park, adjacent to its original home on the UCD campus. The company, which has well established links with UCD and with Enterprise Ireland over many years, currently employs 80 people (including more than 30 scientists) and has an annual turnover of €60 million.
Initially they were a product registration company providing contract services for multi-national and generic companies to gain new or support existing registrations.
The company has a very strong scientific base and developed a particularly strong position in doing five batch analysis. They had a very good reputation in this area and even MNCs companies would get LS to undertake this work for them. A five batch analysis is required for any new active ingredient source/ supplier and all impurities have to be identified, described by some as 'looking for a needle in a haystack'.
In 2020 CEO Nicola Mitchell won the highly prestigious and acclaimed Irish 2020 EY Entrepreneur of the Year Award. Nicola will now go on to represent Ireland and compete at the EY World Entrepreneur Of The Year Awards in Monte Carlo in June 2021.