Life in Life Scientific
February in Life Scientific Newsletter
Welcome to the February edition of the Life Scientific Newsletter.

At Life Scientific our R&D team (laboratory and regulatory) are specialists in their technical areas but they are also very focused on having first-hand knowledge of how our products will be used, and what's most important to farmers and agronomists
As part of an ongoing customer focus training programme, staff at headquarters in Dublin will be attending a practical session with applications expert, Tom Robinson, to understand crop sprayers and the application of different formulation types.
This is especially important for us now as our chemists are developing novel formulations and this spring we will be launching LAYA, Life Scientific's metsulfuron-methyl which, like all sulfonyl ureas, needs particular attention to the sprayer washout process, another area that will be covered as part of the course.
PRODUCT NEWS
2023 has started well for Life Scientific in the UK with the approval of Plant Growth Regulator product, TRINESTAR.
TRINESTAR contains 250g/L trinexapac-ethyl and is approved for use in wheat, barley, oats, rye, triticale, Durum wheat and grassland seed crops.
TRINESTAR is a reverse-engineered emulsifiable concentrate formulation of Moddus. A product label, tank-mix list, Safety Data Sheet, and an Engineered Benefits sheet are available on the Life Scientific website.
We are expecting more exciting product approvals throughout 2023 including important herbicides, fungicides and insecticides and we will let you know as soon as they appear.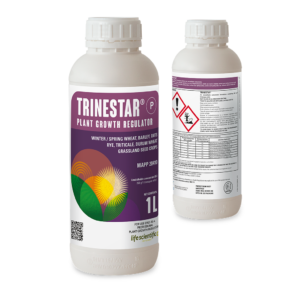 February Weed Control
We are regularly receiving calls regarding weed control in wheat following autumn herbicide programmes.
Although January had some cold nights, the generally mild conditions have allowed broad-leaved and grass weeds, such as Annual meadow-grass, to continue to grow.
Remember that CINTAC, containing a higher dose of mesosulfuron-methyl and iodosulfuron-methyl-sodium than products such as Hatra, Horus and NIANTIC, can be applied from 1st February and can help control a range of weeds that have come through autumn herbicide programmes in wheat.
Don't forget to check the label for approved tank-mixes or sequences for any follow-up ALS treatments.
Tips For Black-grass Control Through Product Application
Spray applications expert Tom Robinson has been trialling CINTAC to understand how to get the maximum weed control by using different application techniques. The trials looked at levels of black-grass control using four mainstream nozzles and three different boom heights. With many growers looking to start their herbicide programmes in spring as they were unable to apply any autumn products it will be vital to get the best performance possible from any products.
Four different nozzle types were tested to see how they influenced efficacy of CINTAC against black-grass. The Guardian Air 110˚ reduced drift, Traditional Flat Fan 110˚ with medium spray quality, a Flat Fan 80˚, giving a higher energy output and a Defy 3D set to alternate forwards and backwards along the boom. The best black-grass control was achieved with the nozzle which gave the greatest spray deposition on all four surface areas of the water sensitive targets. The Defy 3D nozzle gave the best all-round coverage at both 50 and 100cm above the crop
The boom height of the sprayer is incredibly important to get maximum efficacy from CINTAC, or any product being used. For all four nozzle types tested in the CINTAC application trials, the boom height was important, although the Guardian Air was the least sensitive to the different heights. From 50 to 100cm the most consistent performing nozzle decreased coverage of the water sensitive paper by 10% and none of the nozzles tested had more than 8% coverage of the front vertical side of the targets when the boom height was set to 100cm above the crop. Combined coverage on all surfaces from the 4 nozzles fell from 26% at 50 cm nozzle height, to 19% at 100 cm. a drop of 35%. The figures illustrate the importance of keeping the nozzle at a height no greater than 50 cm above the crop, to get the best kill of blackgrass. Using headcount and yield loss data from Dr Stephen Moss, (formally Rothamsted Research), using the Defy 3D nozzle over the Guardian Air would give an increase in yield of 0.7 tons/ha. This season, with the variation in control of yield robbing grass weeds such as black-grass, every care must be taken to preserve profitability and minimise seed return for the following year. Best Practise: Apply CINTAC in 200l/ha at not more than 12km/hr using a Defy 3D (05 or 06), nozzle height should not be more than 50cm above the crop.
FIRESTARTER For Spring Crops
To help spring cereal growers, 2022 saw the addition of Spring barley to the FIRESTARTER label, which already included Winter barley, Winter wheat and Spring wheat.
FIRESTARTER contains 400 g/l flufenacet and 100 g/l diflufenican and is a pre and post-emergence herbicide for the control of grass and annual broad-leaved weeds. It is a reverse-engineered Liberator. Flufenacet, a contact and residual herbicide, is still regarded as an essential component of grass weed resistance management strategies in cereals, with the DFF broadening out the weed spectrum.
At the rate approved in Spring wheat and barley (0.3L/Ha), Annual Meadow-grass will be controlled pre-and post-emergence up to the 2 leaf stage. Spring barley may be treated pre-emergence of the crop and Spring wheat may be treated pre-or post-emergence before the 4 true leaf stage of the crop.

EAMUs
Whilst there are already a number of EAMUs for the Life Scientific products, we are currently reviewing what additional EAMUs could be useful for our customers. We have several applications in process including Linseed for the newly re-registered BASILICO and Sweetcorn. If you have any other suggestions, please let us know.