Life in Life Scientific
August in Life Scientific Newsletter
UK News:
Combines are rolling up and down the country and it's an exciting time for everyone involved in the harvest process. We'd like to wish all our colleagues and customers a successful, but mostly a safe harvest season. It's also the start of briefing season and the chance to update growers and agronomists on life in Life Scientific, new products, developments and best practise advice for the coming autumn season. If you haven't requested a briefing yet, and would like to hear from us about our current portfolio, new registrations, label changes or just catch up for a chat, we'd be happy to hear from you.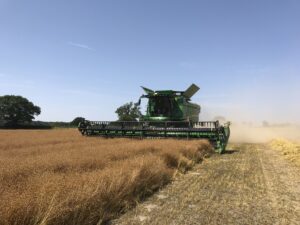 Product News:
It is predicted that the area of oilseed rape will increase by 25% this season and some is already in the ground.
Although the end prices are higher, unfortunately the risk of losses and complete crop failure from cabbage stem flea beetle has not gone away and growers will be monitoring crops carefully for signs of the pest.
Foliar applied, pyrethroid insecticides are the only chemical control for cabbage stem flea beetle (CSFB) in oilseed rape crops. Lambdastar is our reverse engineered Hallmark Zeon containing 100g/l lambda-cyhalothrin and can be used for CSFB control when thresholds are reached.
During germination and early growth stages, OSR is particularly at risk of damage so Lambdastar should be used at the first signs of attack rather than as a precautionary measure. At GS 10 (cotyledons unfolded) OSR plants are more tolerant to feeding damage and an application should be considered only if 25% of the leaf area has been eaten or weather and ground conditions are making plant growth slow. Yellow water traps can be set up at this point to aid beetle monitoring.
Lambdastar has a maximum individual dose of 75ml/ha in OSR and can be mixed with a range of fungicides if sprays are also targeting phoma or light leaf spot. However, if using Lambdastar as a stand alone application a non-ionic wetter should be included to maximise efficacy. For more information full product details are on the website.
EAMU News:
A reminder that Modif, our reverse engineered Switch containing cyprodinil and fludioxonil, has been granted an approval of an Extension of Authorisation for Minor Use (EAMU) registration for use in carrots and celeriac.
This EAMU approval comes as welcome news as an additional option for vegetable growers for protection against sclerotinia and alternaria leaf blight. The EAMU covers three applications in carrots at a rate of 0.8kg/ha and should be applied 7 days before harvest. In celeriac, only two treatments of 0.8kg/ha are recommended and should be applied 14 days before harvest.
Modif is a broad spectrum fungicide for use in a wide range of horticultural and agricultural crops. It is most effective when used as a protectant treatment or in the
earliest stages of disease development. Its two complimentary active ingredients are from different chemical families with different modes of action.
The EAMU can be accessed here or on our website: https://lifescientific.com/wp-content/uploads/2022-05-05-MODIF-add-uses-PAN.pdf