Life in Life Scientific…
Subject, Harvest and Farm 24
UK News:
Combines are rolling up and down the country and it's an exciting time for everyone involved in the harvest process. However, it can also be a dangerous and challenging time. This year the agricultural industry has seen almost a doubling of fatal injuries whilst at work.
Please take the time to assess risks to you and others whilst working. For practical tips and advice the Farm Safety Foundation has a range of resources available on it's website.
We'd like to wish all our colleagues and customers a successful, but mostly a safe harvest season.
Product News
Growers have taken advantage of good ground conditions and high prices and oilseed rape drilling has begun. Many growers are being tempted back into the crop after dropping it from rotations last year.
Unfortunately the risk of losses and complete crop failure from cabbage stem flea beetle has not gone away and growers will be monitoring crops carefully for signs of the pest.
Lambdastar is our reverse engineered Hallmark Zeon containing 100g/l lambda-cyhalothrin and can be used for CSFB control when thresholds are reached.
Lambdastar has a maximum individual dose of 75ml/ha in OSR and can be mixed with a range of fungicides if also targeting phoma or light leaf spot, however, if using as a stand alone application a non-ionic wetter should be included to maximise efficacy. For more information full product details are on the website.
New Stater for Trials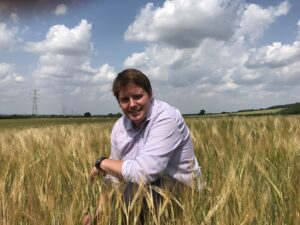 We've expanded the Life Scientific team this month with the appointment of Sam Gorny. Sam joins Life Scientific as our new Efficacy Specialist working in the Regulatory Science Team. Sam has a strong background in plant science and plant pathology, having a BSc in Microbiology and Plant Science at Nottingham Trent University and a PhD from the University of Nottingham and Rothamsted Research. Sam joins us from UPL where he has been managing efficacy regulatory trials programs for the last seven years.
All our products are authorised by CRD on the basis of comparability with the reference product. Our approach of reverse engineering off patent products does not require the submission of efficacy data to regulatory authorities as the products have already been assessed for comparability against pesticide chemistry, mammalian toxicology, ecotoxicology and efficacy perspectives. However, there are cases where we decide to generate efficacy data through field trials; this applies in particular to novel mixture products currently in our pipeline.
These products will be an exciting extension of our "cloned" range, bringing our customers new crop protection options.
#FARM 24
Each year, British farmers are encouraged to take to social media for one day to post pictures, videos and text to show and explain the work they are doing that day. The aim is to show consumers the vast extent of the effort and care which goes into producing the food they eat.
Once again we're really pleased to be supporting #Farm24, it's is a great opportunity for Life Scientific to see how some of our growers are getting on and we took the opportunity to get out and visit a few of those farms on August 5th for #Farm24 and see how the harvest season was progressing for them.